Problem:
You can't seem to create an arrangement that really feels like a convincing musical journey. You can put various song parts together and move them around, but nothing you do seems to create the feeling you get from listening to your favorite music. You find it very hard to create a sense of drama or tension and release. You don't understand how to structure musical time convincingly over the course of 4-10 minutes (and are amazed that a good DJ can do it over the course of hours!).
Solution:
There are many different ways to organize musical materials over time, but one of the most successful is a three-part structure called the dramatic arc that is also commonly used in theater, film, and other narrative or dramatic media.
The dramatic arc refers to three main sections: exposition, climax, and dénouement, which are connected by rising action at the beginning and falling action towards the end. A graphical representation of this arc (known as Freytag's pyramid) is below: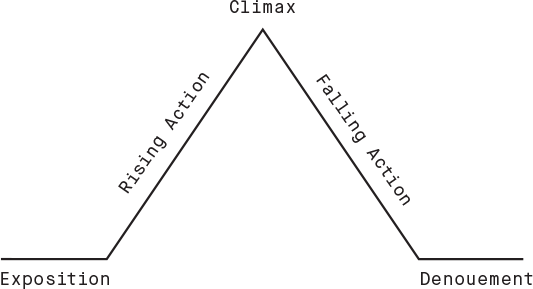 Exposition: In stories, this is the introduction of characters and the setting of the scene. In music, the exposition is the introduction of musical materials (melodies, harmonic progressions, rhythmic ideas, etc.) that will appear through the piece.
Rising action: This is the section when tension builds towards the climax. In stories, this usually means conflict between a protagonist and adversaries. In music, it might mean variations or mutations of the materials that were introduced in the exposition.
Climax: This is the peak of dramatic tension in the work. In a story, this is often the "turning point" for the protagonists, the point at which fortunes shift from bad to good or vice versa. In music, the climax is often marked by a sudden increase in textural density (e.g., "the drop" in dubstep or EDM).
Falling action: This is a section of relaxing tension after the climax. In stories, this section serves to resolve outstanding conflicts from the climax. In music, this section might mirror the activity from the rising action section.
Dénouement: In stories, the dénouement is often a mirror of the exposition, in which characters return to normalcy after the events that make up the tension of the story. In music, this might mean a restatement of established musical materials (e.g., a repeated chorus) or a gradual dissolution (e.g., a fade out into silence).
While the dramatic arc is normally thought of as a formal structure for the piece as a whole, in music it can also be used as the structure for smaller- or larger-scale components. On the micro level, a single melodic idea can be structured as a dramatic arc; consider a melody that rises to a peak before falling again to its starting pitch. (An example like this is quite literal, with a melodic contour (see Creating Melodies 1: Contour) that visually matches the shape of Freytag's pyramid. Of course, it's also possible to build tension without literally ascending to a higher pitch.) On the macro level, a good DJ set often follows something like a dramatic arc as well, with tension building to a climax over the course of an hour or more, before resolving back to a lower energy level over a similar amount of time.
There are, of course, many types of musical forms that bear no resemblance to the conventional dramatic arc. Genres like dub or minimal techno, for example, generally have no clear build to a climax. In this music, dramatic tension is created in entirely different ways, often through careful attention to sound design and subtle changes in an otherwise static texture over time. But in some situations, using the dramatic arc as a model for musical form can work extremely well.